* Bateau Builder - Expert *

Posts: 7175
Joined: Tue Aug 02, 2011 4:23 am
Location: Kasilof, Alaska
Dang that is a good looking boat!
---
---
Thanks - I know quite a few parts that only a parent could love - but when you build it you know where they are! I picked the V10 because I really thought that the curves and V-hull make an attractive design.
I'd love to try a second build leaving some of the timber bright finished, but I'm not sure that I'd have the patience to get the quality of finish that I'd want - and that some of the builders on here manage to achieve.
---
And now for probably the final update - it turns out that it can sail too!
We took it out on a local dam (as the bay didn't have great conditions for the first sail - I thought that ~17kts might be a bit much to try taking my son out in). As I said in an earlier post, the initial plan is for a dodgy windsurfing rig. A local shop slung me a CF mast for $50, and an unusual size sail for $50 too, so it worked out pretty cost effective. It sailed reasonably well with its oversized sail (5m2 windsurfing sail vs 3m2 gaff rig on the plan) and is insanely fast to rig. The balance is a bit out compared to the usual bigger boats I was sailing pre-COVID – I could reasonably easily overpower the rudder and daggerboard and effectively change our heading by adjusting the mainsheet, but it was still eminently and easily sailable, even with a 3yo on-board!
Ian (my 3yo) insisted on being on the tiller, and managed pretty well to follow simple instructions of "push it away", and "pull it towards you". He needed to be encouraged to stay on a straight line though as he enjoyed being in control and making the boat respond. He pretty much was on the tiller the whole way out and back including through quite a few tacks and a couple of gybes.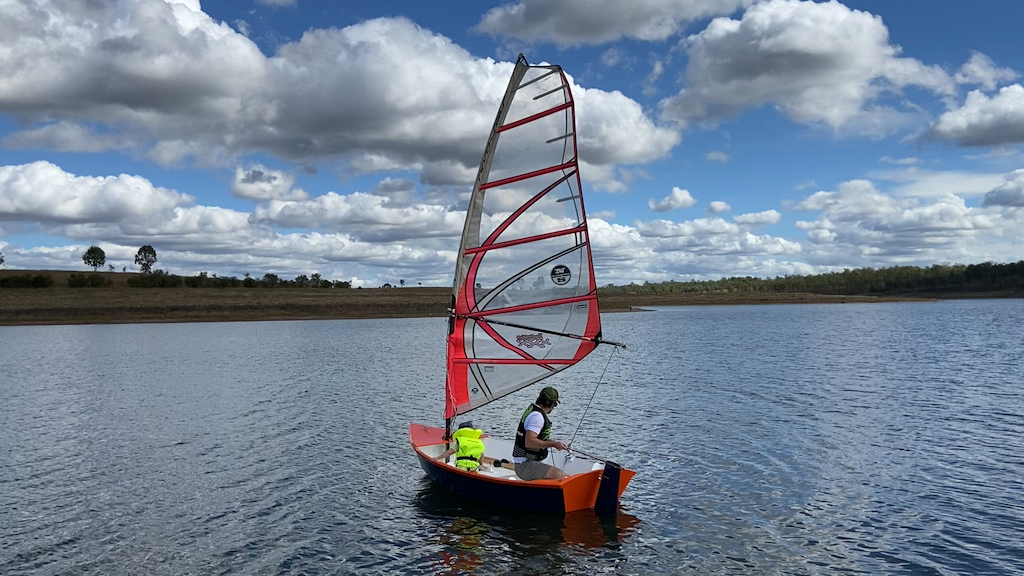 It turns out that the rudder floats though (who'd have thought wood would float?!), so I may put a very weak pin through the eye in the pintle that can shear off if I hit the bottom hard. If I was feeling particularly dodgy, a wooden skewer from the kitchen drawer would probably suffice!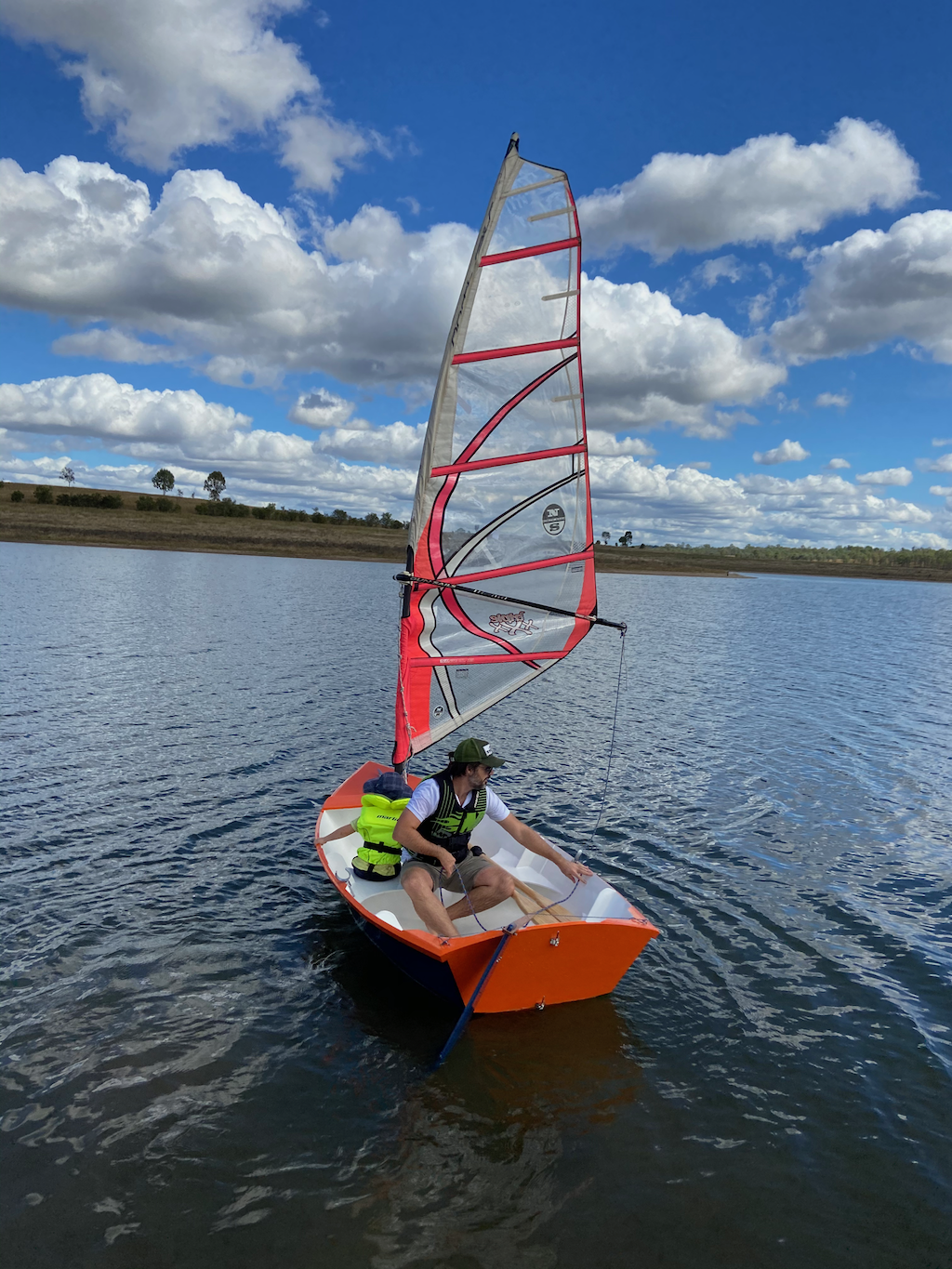 But all in all a successful day, and now the boat has a name. We named the boat, "Sequestration". A pun on isolation, and questing for the sea (yes, groan).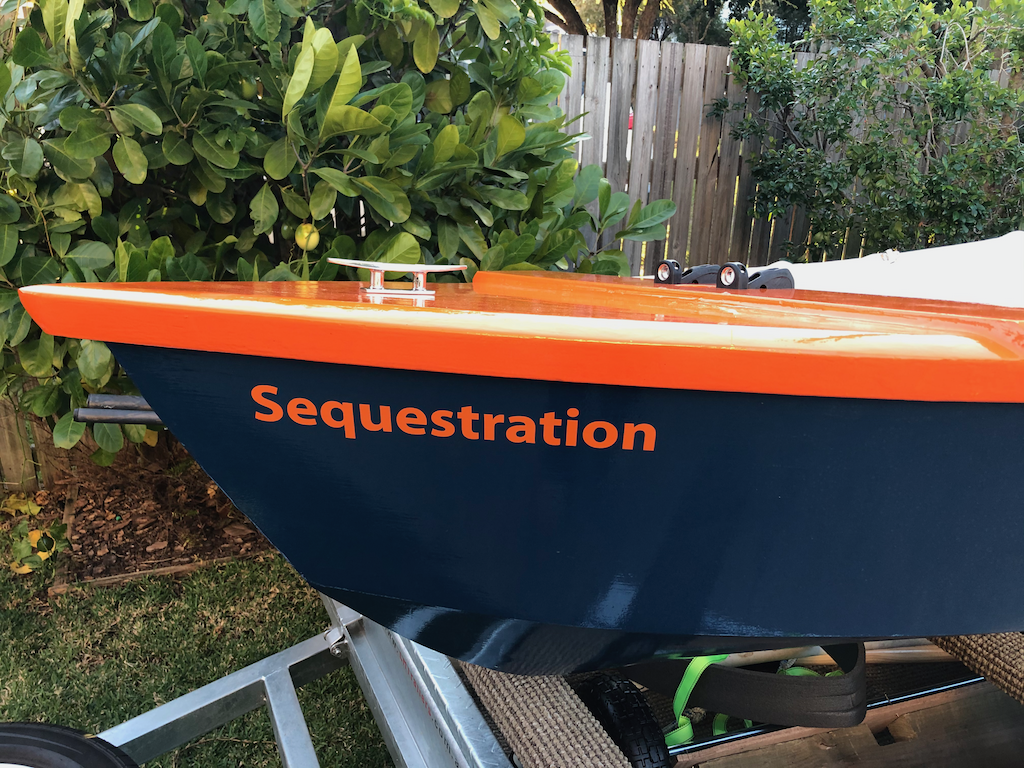 Many thanks to Jacques, the team, and all of the people who post on here with their updates and tips. A complete blog of the build is up at
https://fearthecow.net/guest/building-a-boat/
. I look forward to sailing this many times in the future. I think that it's going to be an excellent boat for Ian and his younger sister to grow up mucking around on - and hopefully become a bit boat obsessed too!
---
* Bateau Builder *

Posts: 2986
Joined: Sat Dec 07, 2013 11:29 am
Location: Marin County, CA
Contact:
Your three-year-old is doing better than my sailing students! When I say "push it away from you" or "pull it towards you" they get it right about 1/2 the time.
Beautiful work and a great project to get Ian started at a very young age.
Tony
---
* Bateau Builder - Expert *

Posts: 1647
Joined: Tue Dec 11, 2012 3:44 pm
Location: Australia
Congratulations - nice boat! I'm in Townsville with a powerboat built on highly modified Mangusta 20 plans from Batuea2. I wish I had stumbled across your build sooner as I could have helped you out with sources of wood, epoxy etc.

Where is that water?

Cheers
Lee
---
Thanks Lee!

The epoxy was from Volksglas in Brisbane, and I think (it was a while ago now) the ply was mostly from Plywood and Panel in Darra (with a couple of smaller project sheets from Bunnings for the 18mm bits). The owner of Volksglas was really helpful - not sure if it was the cheapest, but he definitely was helpful.

The first set of photos on page 1 is Dumaresq Dam in Armidale, NSW, and the second set are on Wivenhoe Dam. It was blowing 20kts on the bay the first day we took it out, and I thought that was a bit much for a maiden with a 3 year old.
---
Users browsing this forum: No registered users and 2 guests