This is a quick tutorial on how to create your main album, create a sub album for a project, upload photos to that sub album, then use BBCODE to embed the photos in your post. I'm using safari on a Mac, but the process is exactly the same for any browser.
Create your user:
Once you get the login approval login to the forum and view updates your profile.
Click the triangle to the left of your under name. Select the link "Profile".
Click the link "Edit profile"
Make any edits on the profile tab but eventually click on the tab labeled "Gallery"
Click the "Create personal album" button
Subalbums are used to group related images. You can create hierarchies of sub albums if needed. While yo do you need subalbums it is recommended to use subalbums.
Click the "Create subalbum" button
Give the subalbum a name and description. Click the submit button
Click the link "Back to previous page"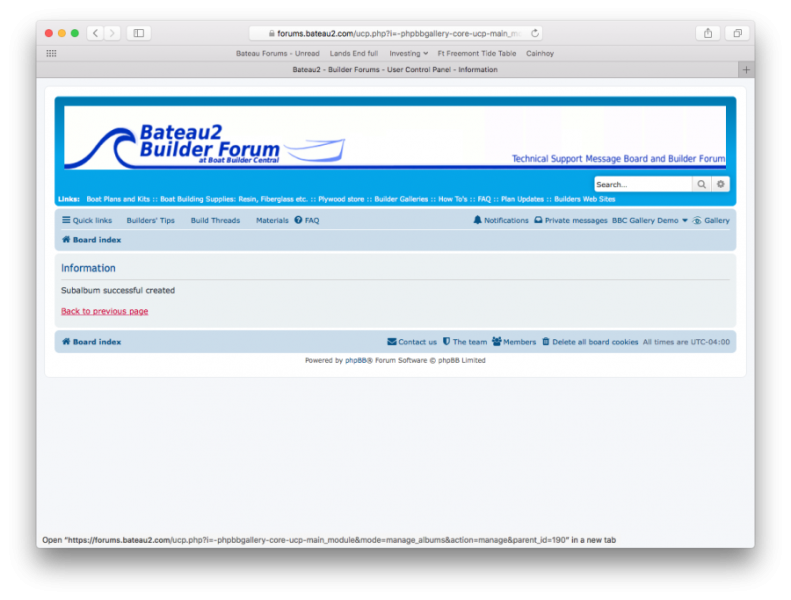 Click the name of the subalbum.
Click the "Go To" link.
You are now in the subalbum. Click on the "Upload Image" button to start the upload process
Click on the choose files button to open a file selector and pick files to upload.
Use your OS file chooser to locate the images to upload in local storage. Select
up to 10 files
and click the button to upload the files (on OS X it is choose).
Click the Continue button to upload the files to the server (note this image is from above and does not show files selected)
Once you click on the button you will get to make some adjustments to the photos.
You can change the name to something meaningful.
You can add a description that can be seen when the album is viewed.
You can rotate the image.
Once done making adjustments, click on submit at the bottom of the upload confirmation page.
Repeat the above until you have uploaded all the photos you want to the gallery. To add photos to the post.
You will need two browser instances/tabs. In the first tab, Start a new post. In the second go to your gallery. Find the image you want to use and click on it.
Copy the BBCode... this is what tell the phpBB to load this image.
In the other tab, paste the BBCode tag into your post.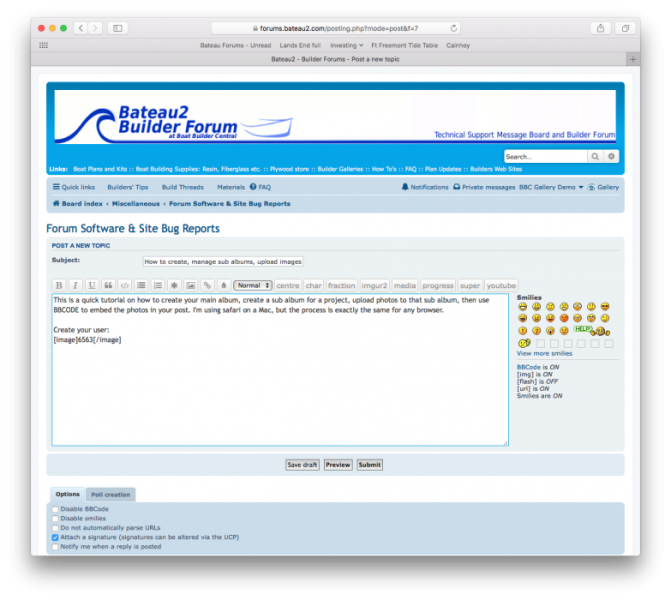 Complete pasting BBCode and complete your post just like normal. You can preview the images with the preview button. When you are done click submit.
I'm sure there are things that are missed. Please post questions and I'll update the directions as needed.
Enjoy!