Ok, if you haven't realized it yet I'm cheap. Oars were going to cost $149.95 a pair and I figured I could make them cheaper. My hands were almost permanently dirty so no photos of making the oars just an after the fact explanation now.
First off I bought 4m of 44x44 pine (dressed 2 by 2) and cut it in half.
Using a router bit I cut a 10mm deep, 10mm wide track up opposite sides for 350mm from one end.
Next I used a 45 degree router bit to take the square section down to an octogon
Using a plane and sander I took the corners off the octagon to get a roughly round cross section.
Using a flap disc in the angle grinder I made smaller diameter handles at the opposite end to the routered tracks.
I cut blades out of scrap plywood. The blades have a 350mm long slot up the middle. Slot width is the distance across the base of the routered tracks.
From more scrap plywood I cut two circles the outside diameter of the rowlocks. I then cut another circle the diameter of the oar out of the middle so I had two donuts.
Using epoxy and silica glue powder powder the blades were glued on handles with the slot fitting up the tracks.
Remembering to put the rowlocks on first, I glued the donuts onto the handles so there would be a hands with between the handle ends of the two oars while rowing.
On the blade side of the donut I put a 300mm length of biax cloth to prevent the rowlocks wearing through the wood.
After sanding down all the rough edges I coated the entire oar with neat epoxy to seal the wood.
Lastly I laid down 3 coats of varnish to protect the epoxy from UV.
All up cost about $40 for the wood and $6 for 1m biax cloth. The rest all was scrap or leftovers from other projects.
Blade glued in slot in shaft.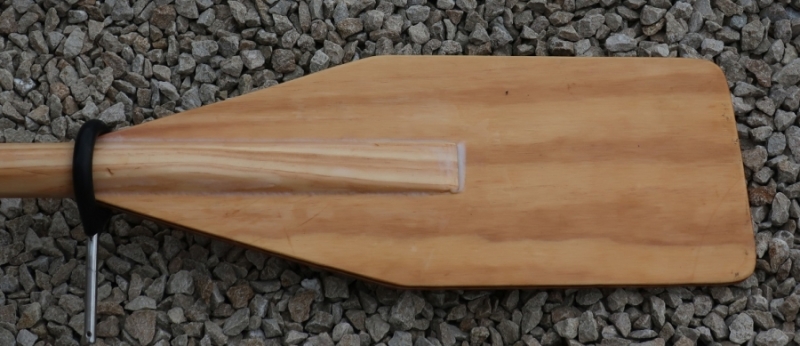 Handle other end.

Collar and biax cloth in the middle.
Overall finished product.