Well, personally, I've been extremely lucky, thank you for asking - it has been a little crazy with thousands of people evacuated and every major road from the rest of Canada down to the southwest coast washed out, some needing months to repair. They've instituted gas rationing in this part of the country because the supply chain is so disrupted: you can't buy more than about 8 gallons at a time. It's pretty wild. Vancouver, a city the size of Seattle, is essentially cut off from the whole rest of the country, except by air. The road and rail links to it are gone.
I can't really personally complain, living in what my mom calls "the castle on the hill." That's a wild exaggeration, it's an old house from 1908 but it's not particularly nice or fancy, and I'm in a normal residential neighbourhood, it's just the biggest house in the neighbourhood and on the highest point for a few hundred feet - it's extremely lucky, in a way, because my entire town is built on a pretty steep hillside, and we're on one spot where the ground projects a little bit in a minor foothill, so everything mostly slopes down away from us on all sides, so not prone to flooding on our particular lot. And I work from home, so I don't need to commute, so I can basically be a spectator to the whole thing.
This whole town did not too badly - many flooded basements but no catastrophic flooding. But twenty miles north or south, a different story: massive sinkholes that closed the main highway, properties under several feet of water, roads open only to essential travel, all kinds of strangeness.
It's funny, I casually commented on another thread here right before it started that we were expecting 150-175mm of rain that day, which is 6-7 inches. But although that's what they predicted, I thought we'd probably be on the low end. We got 185mm, a little over 7 inches...but we were on the low end compared to the regions around us. Some areas got a lot more. The range I used to do most of my shooting at is under six feet of water now, and the suburban area closest to it is basically wiped out.
These are main highways: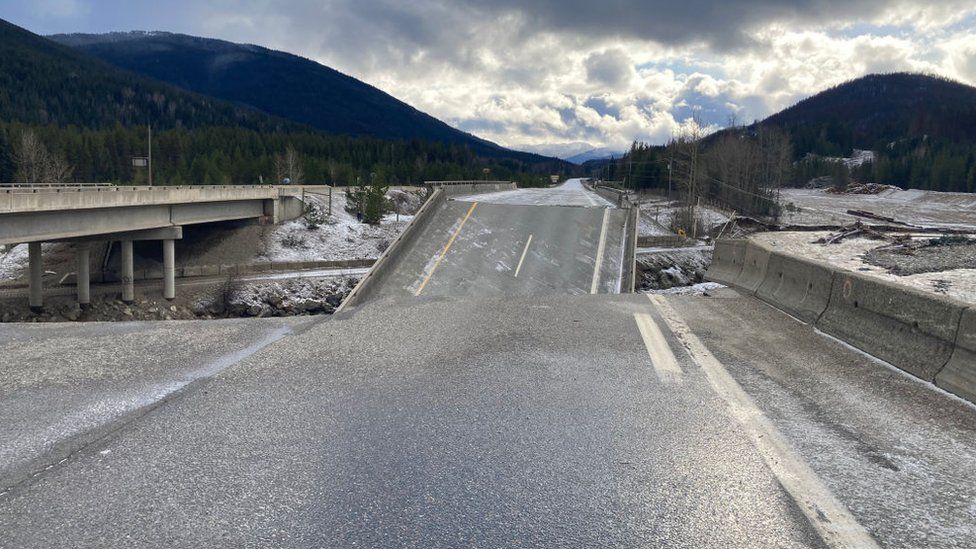 And those are just single spots, they're like that all over. Major repairs necessary and more storms coming now, so when it all gets fixed...man, no idea. It's fairly spectacular damage.
The sun came out the next day, so I took the boat out and gingerly picked my way through the debris field out there - there were logs everywhere, you could only run on plane in short sections and had to watch the water like a hawk. The ocean was green with mud and silt, although it doesn't look it here:
But you can see logs distributed everywhere on the surface.
Outside the protected bay, conditions were a little sporty for a small boat...lots of wind in the prior 24 hours. But manageable. I didn't get any good pictures of it because I was a bit focused on not hitting any more logs. But it was quite beautiful out there. I didn't come in until sunset.
I also popped over to my cabin on the weekend - first trip there on the new boat. I just went for an afternoon to start putting up some netting to keep the kid safe this summer. Nice to be able to round-trip it on about 3 gallons of gas, instead of whatever it used to take, about 12, I guess. Particularly if we can only buy 8 at a time now.
You know, it's a funny thing...when I bought that cabin, one of the factors in choosing its location was that I always thought that conceivably, Vancouver and the surrounding area would be hit with a natural disaster (I assumed earthquake) that would cut it off from the rest of the province because every route in is over a bunch of bridges.
And then I'd be in the middle of a giant city, with no road or rail to supply it, an airport that's on the oceanfront and relies on dikes to prevent it from flooding on a good day, and a shipping port with no reliable means of distributing whatever goods are sent there, and all that stuff will arrive at ocean-shipping speed.
And I thought you know, I'd like to be able to leave that situation, because that sounds like it would suck. So I bought a place I could get to by boat, and when I lived in Vancouver I kept the boat fueled up and ready to leave, and I had the ability to launch it without power, so if I couldn't get my truck to it, we could still just walk over, crank it out with the tirfor, and go. I tried it to make sure it could be done. It took about an hour to launch without a vehicle but wasn't too hard.
And I stocked the cabin up because I wanted to be able to just check out of the city if it really got crazy. I always wondered how bad things would get if we were relying on the military to distribute water or food...considering they're based out of CFB Shilo (Winnipeg) and would probably be about as likely to get here quickly as Santa Claus. And probably equally well equipped and funded.
I don't live there anymore, I live in a little town of around 8000 people, which is used as the set for Resident Alien, as it happens: a show set in an absurdly picturesque, friendly little caricature of a town. That's where I actually live. I don't worry too much about dealing with panicked crowds - around here the most severe social unrest I have seen was when they announced that due to covid, the annual Christmas lights festival would be cancelled: in a fit of rage, a man threw his hat on the ground, and I could see dozens of other people nodding. It was touch and go for a minute there but cooler heads prevailed. I thought we might have an incident of yelling, but no, thankfully, everyone calmed down and the chaos was reduced to angry murmurs. Here, I really don't worry much about having to cut and run.
But it's very interesting to me that I am getting a little preview of the exact situation I had thought about, only it isn't from some apocalyptic earthquake, but from...lots of rain. I would never have guessed that in a million years. It's really fascinating to me, in fact, because Recoil magazine had actually asked me to do a piece on why and how to set up a property to be a dual-purpose family vacation spot and survival shelter, in a manner that makes your family actually want to be there. But then I was busy moving and everything and I just never got around to it.
But now it seems extremely relevant again, so maybe I'll give them a call and see if they want it still, with an angle related to the flooding and the proof of concept that provided.